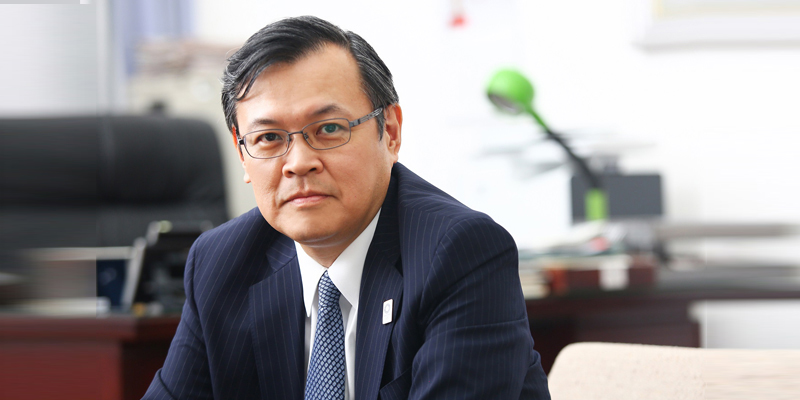 24 Oct

Interview with Ambassador Sugiyama Akira, Embassy of Japan in Sri Lanka

GI: COVID-19 has come as a sudden external shock, which has the potential to reshape existing economic and diplomatic relationships around the globe. Last June, former Prime Minister Abe has called on Japanese businesses to relocate their high-end manufacturing from China back to Japan and other manufacturing activities to South East Asian, allocating a total of US$2.3 billion to these efforts. How can the new strategy benefit the Japan-Sri Lanka partnership?

Having experienced serious disruptions of supply chain of goods caused by COVID-19, some Japanese companies are exploring diversification of their production base, especially in the Asian region, in order to minimize the risk of disruptions to the supply of goods in the event of unanticipated crises.

I believe that Sri Lanka has a good potential to attract investment of such Japanese companies, due to its geographical location as the hub of the east-west shipping route in the Indian Ocean; its proximity to the rapidly growing Indian Subcontinent and neighboring regions; its strong workforce with diligence, high-level education as well as proficiency in English, among others.



GI: Japanese firms, such as FDK, Toyota, and Noritake have made significant investments in Sri Lanka over the past few years, reflecting the transformation of Sri Lanka's aid relationship with Japan, to an FDI-oriented one. There are many more opportunities building up, is there any or a few in particular that you wish to highlight? If so why?

The Government of Sri Lanka has been actively promoting Foreign Direct Investment (FDI). The Board of Investment (BOI) has started implementing a comprehensive roadmap to redefine Sri Lanka as a multi-billion dollar industry-conducive destination by 2025, with five prioritized sectors: manufacturing, ICT, hospitality and tourism, agriculture and food processing, and construction and infrastructure.

Japanese companies have made investment in a variety of areas, including manufacturing, logistics, tourism, and financial services. Since Sri Lanka has a lot to offer in tourism, including beautiful beaches, wild life, 8 world heritage sites and famous Ceylon Tea, there is an emerging trend among Japanese companies to invest in hotel business in Colombo and the coastal areas in the Southern Province.

GI: The emerging role of Sri Lanka as a key regional and international player. Sri Lanka's strategic position in South Asia is bolstered by its Free Trade Agreements with India and Pakistan, which facilitates bilateral trade in goods through the elimination of trade barriers. What is your view on the importance of Sri Lanka as a regional partner?

Sri Lanka is located at the pivot of the east–west sea lane, which is very important for Japan. Sri Lanka has been playing an important role in maintaining the maritime security and safety of the Indian Ocean. Sri Lanka has been very active in the regional cooperation, such as South Asia Association of Regional Cooperation (SAARC) and The Bay of Bengal Initiative for Multi-Sectoral Technical and Economic Cooperation (BIMSTEC). In addition, as you have correctly pointed out, Sri Lanka is taking various initiatives in reducing trade impediments by signing, for instance, FTAs with India and Pakistan and can be a gateway to South Asia. Thus, Sri Lanka is a very important regional partner for Japan.

GI: The Free and Open Indo-Pacific initiatives was a long-term project of former Prime Minister Abe. Is the new leadership in Japan moving towards the same direction, and if so, what is the role that Sri Lanka can have?

Prime Minister SUGA Yoshihide has expressed his determination to continue to pursue a rule-based Free and Open Indo Pacific in collaboration with the countries that share basic values. As Foreign Minister MOTEGI Toshimitsu said during his visit to Sri Lanka last December, Sri Lanka is an important partner in realizing a Free and Open Indo-Pacific.

Japan has contributed to Sri Lanka's sustainable development as a hub in the Indian Ocean, especially through quality infrastructure development.

Japan and Sri Lanka have been cooperating to maintain a rule-based order in the Indian Ocean. Japan has extended assistance to Sri Lanka to enhance its Coast Guard capabilities, including by providing two new patrol vessels as a grant aid and technical assistance for improving oil spill management. In addition, Japan and Sri Lanka have been strengthening exchanges between the Japanese Maritime Self Defense Force (JMSDF) and the Sri Lanka Navy through regular port calls by JMSDF, especially on their way to and from the Gulf of Aden to engage in the counter-piracy operations.

GI: You have been in Sri Lanka for two years. What would you like to share of your personal experience in the country beyond your diplomatic duties and responsibilities?

It has been my great privilege to serve as the Japanese Ambassador in this beautiful island nation located at the heart of the Indian Ocean. Over the last two years, I was fortunate enough to visit various parts of the island both on official and private occasions, from the northern end of Jaffna peninsula to the Fort of Galle, that is a World Heritage Site on the Southern Coast, as well as from the ancient kingdoms of Kandy, Sigiriya and Anuradhapura to Batticaloa, the historic gateway to the Eastern trade, and Trincomalee, one of the world's finest natural harbors on the Eastern Coast, among others.

In those extensive trips, I was constantly impressed by the warm hospitality of Sri Lankan friends as well as the historical wealth, cultural diversity, and unique topography in a country the size less than Hokkaido. Sri Lanka continues to amaze me with marvelous discoveries ceaselessly, which reminds me of ancient appellation of "Serendib" that the Arab traders used to call this exotic island while marveling at the abundance of precious stones, pearls, spices and cinnamon, and where the genesis of the word "serendipity" derives from.

It is my aspirations to bring closer to my fellow countrymen the unbeknown beauty and attraction of this country and to tap the immense potential to further promote our time-honoured friendly relationship that we enjoy today.