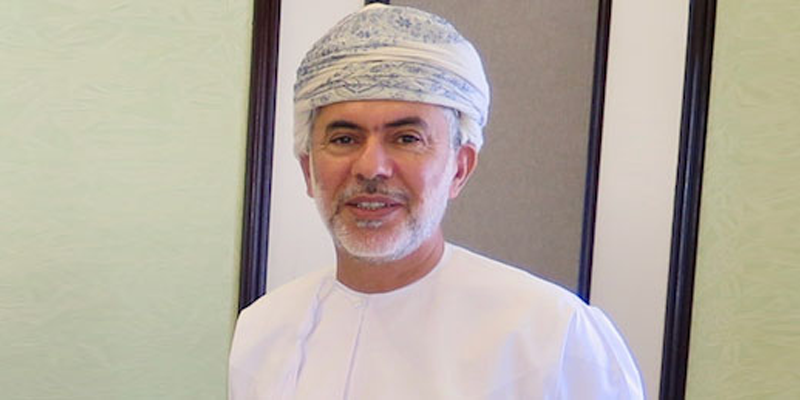 24 Oct

Interview with H.E. Abdullah bin Salim Al-Salmi, Executive President of Capital Market Authority, Oman

Global Insight (GI): Oman is working on diversifying its economy away from the oil and gas sector, and will now start to develop the Vision 2040 strategy, after the Vision 2020 strategy is implemented. What is your assessment of the strategy that will come to an end and the one that will take over from it?

As we approach the end of Oman's 2020 Vision, which in my opinion has been able to set the scene for the next 20 years, I can say that Oman's 2040 Vision is going to be build on diversification and elimination of the dependence from the oil and gas industry. We are assuming that maybe even within the next 15 up to 20 years we will be able to definitely eliminate our dependence on the oil and gas industry. We truly hope so, looking at the current speed and the direction of the development. The other sectors that Oman might be looking into in order to maintain and sustain its economy are industry, tourism, mining, fishing, agriculture and logistics. For me, logistics is the sector with the greatest potential, taking into account Oman's location as a gateway between the East and the West, from East Africa to Central Asia. In order to do that we need to be prepared, and we are working on it. Duqm Special Economic Zone is being developed, as well as Salalah and Sohar's special economic zones. We need to activate these three hubs and turn one of them as an active port worldwide.

Another main objective of Oman's Vision 2040 is to shift the importance of economic leadership from the government to the private sector. In the past it was required to have the government as a leader, but now, having reached a certain level within the private sector, I believe the private sector is ready to take the lead within Oman's economy. We expect the private sector to initiate, come up with new ideas and to create innovative projects in regards to improve and make Oman stronger.

GI: When it comes to the foreign investors who are considering investing in Oman, what would you tell them?

We have been experiencing continuous political stability, safety and wellbeing. Our country has friendly relationships in every corner around the world, we don't have any enemies. As His Majesty Sultan Qaboos said, this policy will continue forever, this is Oman's policy. Our next main goal within Oman's 2040 Vision is to prepare our new generations, to enable them to be flexible enough to work in any circumstances that come along with economical changes. We want them to be ready, to adapt to any working conditions. In regards to that, we need to think about reforming our educational system in the coming years. We need to be open to innovation, technology and be a knowledge-based economy. We are striving for some of our universities to become research centers and to reach high levels in the international rankings. We need to maintain the good environment, the safety and comfort for investors to take part in our exciting journey of reformation and innovation.

GI: The Capital Market Authority has also key role in supporting the efforts of the government and contribute to the privatization and diversification of the Omani economy. What are your latest efforts in this regard?

As you know, the capital market has a vital role in facilitating the movement of funds from those who have savings to the ones who need the money, to provide an alternative way of fundraising to the banking sector, which is a shorter way of financing. The capital market is a long-term way of financing, and that is the role that we have to activate. In the coming years, we will see the movement from the government leading the economy, transferring this leadership to the private sector, which will bring the privatization issue in place. The capital market will play a huge part in it because the privatization will happen through it.

GI: Global Insight recently interviewed Mr. Nader Azar, CEO of the Amman Stock Exchange, that is described as one of the most open stock markets in the MENA region. What is the current market capitalization of the Muscat Securities Market and how is its ownership distributed?

We always say that we are one of the most open exchange markets in accommodating and welcoming foreign investors. We have no restrictions for foreign investors to come and invest, except if the company itself has its own restrictions of ownership. Otherwise, the market is completely open for foreign investors. We are currently taking about 30 percent in average of our total cap owned by foreign investors. We also welcome foreign funds to come and establish themselves here in Oman. Our law regulations are really flexible and in our market we even allow a green field initiative to raise funding, subject of having an underwriter for this particular issue. It might be restricted in other capital markets but in Oman we are very flexible and open for foreign investors.

GI: In 2004, the responsibilities of the insurance sector were transferred from the Ministry of Commerce and Industry to the Capital Market Authority. According to the latest figures, there was a 16% growth in insurance policies issued in 2016. What is the growth you are witnessing nowadays?

The insurance sector is growing and developing quite rapidly and we believe that there is a great potential to grow even further. We are still at the beginning phase, focusing on market penetration and development of the future products. In the past we have witnessed an enormous growth and we truly believe it has the potential to grow even more, especially in some particular areas such as health insurance. Nowadays there is a tendency from the government to have compulsory health insurance for expatriates and, as you know, expats constitute more than 40 percent of the population in Oman. This is definitely a turning point when it comes to health insurance, especially bearing in mind that car insurance used to be the leading one in Oman, and now we can already see that health insurance is starting to take the lead. We hope to see other life related insurances and investment insurances to become more popular in Oman.

GI: The capital market witnessed a huge turnout in 2017 by companies and banking institutions looking for financing in the initial public offerings market, accounting IPOs in 2017 for more than RO 600 million. What was key to achieve these remarkable figures and what are your expectations for 2018?

As the Minister of Finance announced during the budget speech early this year, the government is planning to privatize 6 state owned companies, and we have been working with them to create that plan, so that everybody knows what to expect, the market, the investors and the government. We created a 5-year plan with the government, where we decided how many companies are offered each year and also to announce it beforehand so that the investors know about it. The good thing is that, for the first time, we will see companies from the oil and gas sector coming to the market. Ironically, being an oil and gas based economy, we don't yet have oil companies listed in the exchange market, except from retailing and distribution. So, we hope to see at least one or two companies from the oil and gas sector coming to the market soon.

GI: What is the representation of Japanese investors in Oman's capital market?

So far, the Japanese representation in Oman's capital market is very small. Maybe direct investment, but portfolio investment through the capital market is not that representative yet. However, this indicates that there is a huge room for improvement. We hope to see more portfolio investment from Japanese investors. We also truly believe that Japanese Insurance companies have a big potential to enter our insurance market, we already have 11 foreign branches so we are definitely willing to welcome Japanese insurance companies in Oman.

GI: The Minister of Foreign Affairs, H.E. Taro Kono stated during his visit in December last year that Japan is looking to further develop economic ties with Oman. H.E. Mitsugu Saito, Japan's Ambassador to Oman discussed trade relations between the countries and means of enhancing them with Minister Sunaidy. What investment and PPP opportunities would you like to highlight to The Japan Times' high profile audience?

I can say that there is a huge privatization program that is going to happen. But not only with government owned companies per se, but also some of the services delivered by the government are going to be put into PPP schemes, for instance healthcare, education facilities, power generation, water desalination, etc. I truly believe that Japanese investors should come to Oman and join us in these initiatives

GI: Japan, Oman's fourth trading partner and Oman have enjoyed healthy and mutually beneficial bilateral relations since the 1970's. Indeed, business links are constantly growing with encouragement from both parties to further explore business opportunities. Where do you think Japan could play a bigger role to support the Sultanate's further development?

Both healthcare and education sectors are definitely very promising. Our 2040 Vision depends mostly on reforming the whole educational system, in order to enable our young population to get the knowledge and the preparation for future unexpected changes within the economy. We need to make sure that Oman is in good hands. We also need new concepts, new ideas and logistics development and, as we are aware, Japan is an expert in logistics, so this is another reason why we would like to welcome Japanese investors. Their knowledge and insight are welcomed in Oman.



GI: You have been at the CMA since 1999 and its Executive President since 2012. What would you like to leave behind once you leave office?

We want to position the capital market as an instrumental way of financing Oman's economic development in the coming future. We have seen many successful issuances, and we hope to get both the government and the private sector to think about the capital market as a means to finance long-term investments. For example now with the oil crisis, the government will not be able to continue providing the capital that is needed to develop the country's infrastructure. The capital market can provide this kind of financing. We hope to see private sector initiatives coming to the capital market and thus allowing the capital market to play its natural role in providing the required financing to these projects. We are also trying to encourage family-owned companies to come to the market and convert into publicly listed companies, which will then help them to continue to grow and adapt to regulations, corporate governance, shareholders participation and separate ownership from management. We hope to save many family-owned businesses by cooperating with them. There is a public interest in keeping these companies on the market, and we have to convince them to adapt to the changes and convert into publicly listed companies, so that they can survive many decades and serve the country.

GI: The capital market is also a great tool for many people to save money. Are you also encouraging, rising awareness of the people to save money through the capital market?

This is a great point. We have been working from our side and also with other stakeholders like banks and other financial institutions to encourage people to save through the capital market. Many people want to save and invest for example in real estate or other modalities, but this implies a huge investment. On the other hand, saving and investing in the capital market is easy and you don't need big amounts. We are encouraging people to keep in mind that even small amounts of money can be invested whether in a capital market product or even in an insurance product. We are constantly working on improving the existing products and developing new ones for people to save and invest. We want the public to be aware of that and this is an ongoing matter that is very important to us.

GI: How smooth is the dialogue between the different public and private stakeholders in Oman?

We have a great dialogue between the movers and shakers of different sectors in Oman. Banks, insurance companies and the government are cooperating with each other; there is a great dialogue between all these entities. I believe that it is crucial for the ease of doing business in the country; therefore I would like to invite foreign investors to come to Oman and do business in this favorable environment.

We are also a member of the International Organization of Securities Commissions (IOSCO) and the International Insurance Society (IIS), and we are applying the principles of these two organizations to bring confidence to our market and to insure investors and stakeholders that their investment is protected and safe.

Also, in order to connect our market to the international capital markets we have now facilitated the connection between our Muscat Clearing & Depository Co. (MCD) and EUROCLEAR. For example now an Omani investor that wants to invest in Japan, he wouldn't need to open an account in Japan, he can open an account here with MCD and he can invest there and vice versa, international investors that want to invest in the Muscat Securities Market don't need to open an account here, but with their own depository or clearing house. This will make investments smoother and easier.