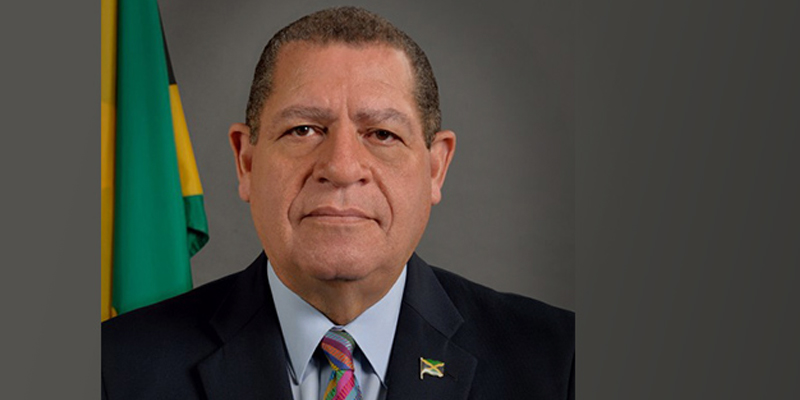 20 Oct

Interview with Hon. Audley Shaw, Minister of Industry, Investment and Commerce of Jamaica

GI: These last 12 months have been a year like no other. How would you describe Jamaica's recovery so far and what is your assessment of the past 12 months?

Hon. Audley Shaw (AS): The past year has been one of the great trials, both globally and of course for Jamaica, but as it is often said, we can only know the strength of our mettle when we are pushed to extremes. Jamaica, like so many countries, was thrown into unprecedented times with COVID-19. The pandemic has, however, helped us to identify areas that require remediation and spurred us to swifter action, regarding the areas that were being worked on before. As a developing state, Jamaica's ICT and telecommunications network, education system, as well as areas within our manufacturing and agricultural supply chains were not as robust as we would have liked. These areas have come into much sharper focus with more resources allocated to improving them. Our telecommunications partners have been working to improve connectivity, especially in the rural sections of Jamaica, recognising that the penetration of ICT supports not only business, but also education among our children. Our manufacturing and agricultural sectors have also been assisted through COVID-19 assistance packages from the government. We had 25 billion J$ in stimulus which is the largest stimulus package in Jamaica's history. It consists of a reduction in our rate of general consumption taxes (GCT) from 16.5 to 15% and other tax benefits. The GCT reduction cost 15 billion J$ and a spending stimulus of another 10 billion J$ was put in place. We have also paid special attention to our micro, small and medium-sized enterprises. The MSMEs make up more than 90% of all classified taxpayers and the government is therefore determined to continue to recognise their importance and to encourage their growth. Our MSMEs will also be benefitting from a special credit of 375,000 J$ for each company through the passage of the Income Tax Amendment Act of 2020 passed by the senate last December.

GI: In recent months you have highlighted the significant role that the manufacturing sector can play in the recovery period and contribute to further diversifying Jamaica's economy beyond tourism. What are some of the highlights of the recently launched National Five-year Manufacturing Growth Strategy?

(AS): This growth strategy is part of a series of initiatives that will take place. They were planned before COVID and now COVID has made them of even greater urgency and relevance. There is a new normal now. In addition to manufacturing and export strategy, the targeting of the export market is critical to the expansion of the manufacturing sector and agri-business. In agriculture, much of the raw material that we need for a vibrant agro-industrial sector must come from what we grow, process and export. We look to support the innovation of the goods and service providers.

GI: Covid-19 has prompted a broad-based shift towards digital methods of working, shopping, banking and social interaction. What measures has the government taken to further Jamaica's digital transformation, to catapult it to become the Caribbean hub for digital services?

(AS): We are forming a partnership with two international firms to deliver digital marketing solutions and e-commerce opportunities to MSMEs as a mechanism to cope with the impact of the restrictive measures coming from COVID-19. In other words, we have to take on, aggressively, e-commerce marketing platforms to get our goods out of Jamaica. The digitization programme being spearheaded by my Ministry of Industry, Investment and Commerce, was initiated in August 2019, with an arrangement with Kalou, a Google-affiliated small business online marketing solution. It allows merchants to create a webpage in less than five minutes, and offer tops placement in Google's search results in the Google maps section, free of charge. Another partner is Fygaro with whom we started working last October. Fygaro is an e-commerce generator that provides options to assist MSMEs with basic e-commerce services through the Jamaica Business Development Cooperation, the National Commercial Bank and other members of the MSME economic system. This partnership also offers businesses the opportunity to create a website, facilitate online stores, payment buttons, links for social media, Whatsapp, invoicing, order management, online accounting and logistics integration. Merchants operating via this platform will incur no setup costs but are required to pay a minimal monthly fee of 15 USD for the integrated suite of services. Under the arrangement with the Government of Jamaica, merchants who sign up with Fygaro will benefit from a three-month free trial period. The government is hoping to further its goal of digitizing 25,000 businesses through these partnerships. Our MSME owners will be trained in digital marketing and other capacity-building subject areas via webinars and YouTube live sessions. We recognize the importance of the digital space in business, particularly within an environment characterised by social distancing and curfews which have had to be implemented because of COVID-19.

GI: On a related note, with Covid-19 facilitating the widespread adoption of remote working practices, various Caribbean nations including Barbados, Anguilla and Antigua are seeking to attract "digital nomads" through a series of incentives and special visas. Has Jamaica also launched or planning to launch a similar scheme?

(AS): We are looking for new creative technologically oriented platforms in order to continue to do business and create wealth. We like so many other economies literally went into reverse – now it's time to think outside the box and be creative in finding new solutions. I am working with my promotion agency, JAMPRO, which has had to embrace new technologies in order for us to try to continue to grow. I make this point: in every crisis, there is a seed of greater benefit, an opportunity. Just a few weeks ago, the National Geographic Magazine declared Jamaica's national dish, ackee and saltfish as one of the best national dishes in the world. Ackee is only exported in a can and all we'd need to do is to cook the ackee and the saltfish, put it as a finished product into the can, and sell it to the world on an e-commerce platform. That's an example of seizing an opportunity out of crisis!

GI: Thanks to the expansion of the Panama Canal, Jamaica is poised to benefit from new commercial ventures and it could exploit its strategic position and political links with countries like Japan. Can you comment more on this?

(AS): Much larger ships can now come through the canal and because of that it places Jamaica in an advantageous position. After ships come through the Panama Canal, Jamaica is the next point on from there. We are a useful trading point for redistribution of goods as we are right in the centre, an hour and a half from Florida and situated between the United States and the Eastern Caribbean. We are also one of the countries that have been listed as the easiest place to start a business and we are continuing to improve on the ease of doing business index. As government, we have sought to position Jamaica as a fourth global logistics hub, comparable to Singapore, Dubai and Rotterdam. Our logistics initiative aims to fit Jamaica into the global value chain and attract significant investment. Jamaica's logistics hub initiative aims to go beyond transshipment into value added services. To this end, we have passed the Special Economic Zone Act. The special economic zones represent a wide variety of geographically demarcated areas that offer simple and efficient visas regulations and procedures to investor. In fact, the Jamaica Special Economic Zone Authority is reporting heightening investor interest in those zones. The region on the whole has already begun to reap benefits from the expansion of the Panama Canal and I want to encourage overseas investors to liaise with our Jamaica Promotions Corporation. This is the nation's premier investment promotion agency and there'll be able to field any questions and respond with any information investors may need.

GI: What are some of your accomplishments, goals and projects that you achieved and have in the pipeline for the near future?

(AS): Last year the Hazardous Substances Regulatory Authority was officially launched on October 29th last year. Jamaica was the first country in the English-speaking Caribbean to establish a full regulatory body for radiation protection and safety. We also have another company called JANAAC, the Jamaican National Agency for Accreditation, accrediting businesses to national, regional and international level. JANAAC is the only company of its kind in the Caribbean region. As a new entity, its primary objective is to build a robust regulatory framework that will provide a safe use of advanced nuclear technology for developments in medicine, industry, agriculture, education and research. We want to target overseas business and e-commerce so the ISO 9001 certification is very important. We have started with government companies, quite a number of the companies of sub-Jamaica such as our export-import bank, EXIM Bank Jamaica, have already got their ISO 9001 certification. We are planning to have many more government agencies and the private sector involved in embracing that international platform for improved efficiency and productivity. Jamaica's ranking has moved from 81 to 72 in 2020, ranking seventh among the 18 economies in Latin America and the Caribbean, and performing above average in 3 out of the 7 GII pillars: institutions, business sophistication and creative output. JAMPRO launched the first phase of the National Business Portal (NBP) to facilitate multiple businesses-to-government transactions in one online location. The website "dobusiness.gov.jm" was built by eGov Jamaica Limited: the platform aims to strengthen the investment environment in Jamaica by delivering comprehensive information and guidance to facilitate private investment. The website provides detailed guidance on steps to take for myriad government business processes along the lifespan of investment projects and will serve as the central point through which all investments are rooted, providing transparency and government cohesion. A list of our achievements may be found on our website and we anticipate improving access to our MSMEs by enhancing the capitalization of our EXIM Bank to improve their growth of cannabis in Jamaica. The Cannabis Licensing Authority is under my direction, and we intend now to build our technology at globally accepted levels and target the world with medicinal cannabis. We are boosting the quality management capacity of more of our agencies and private sector institutions through ISO 9001 certification.

GI: In February, Jamaica appointed an Honorary Investment Advisor for Japan, tasked with increasing awareness of Jamaican opportunities and cultivating strong business relationships in Japan. How important is the relationship with Japan in Jamaica's broader trade panorama?

(AS): Let me take this opportunity to congratulate the Japanese Ambassador in Jamaica, His Excellency Masaya Fujiwara, for having their national celebration of the birthday of His Majesty the Emperor of Japan which was held virtually yesterday. We have already noticed that Japan is beginning to recover from its own COVID-related problems and seems to be getting their economy back on track. We have a lot to learn from places like Japan and Singapore who have shown that you don't have to have a wealth of raw materials to be able to accomplish success. What they have shown us is that their best asset is their people. We have to take inspiration from their example – when you have high levels of human productivity, it is the foundation of creating wealth. I'm looking forward to a time when Jamaica can benefit from a closer working relationship with the government and people of Japan.