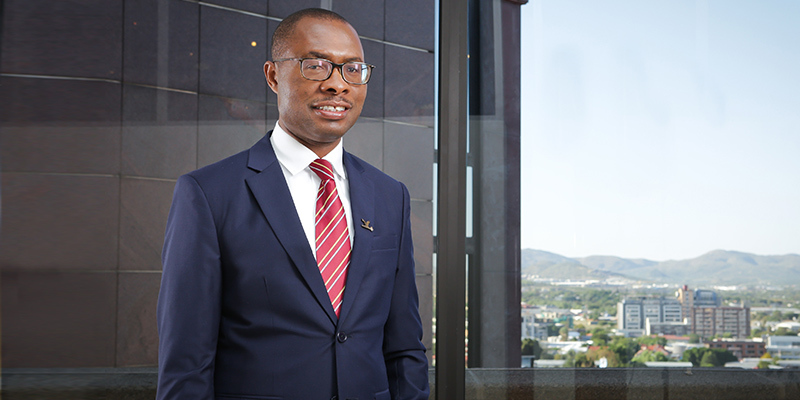 02 Dec

Interview with Lipumbu W. Shiimi, Minister of Finance of Namibia

On August 27, Mizuho Bank and Mizuho Securities Co., Ltd. signed an MOU for business cooperation with the Namibian Investment Promotion and Development Board for promoting investment in the area of ESG/sustainability. Namibia is perceived as a country with high potential as a future supplier of green hydrogen due to its favorable climate and geographical location. What are the initiatives aimed at favoring investments in Namibia and supporting FDIs? What is the estimate of FDIs Namibia wants to attract over the next five years, and the sectors, areas, and projects with the highest potential and biggest opportunities?

To start with the area of energy, we believe that we have substantial renewable energy resources, including solar and wind potential. These days, these resources can be exported, which was not the case in the past unless you were exporting electricity to your region. I believe that hydrogen has opened the way because we can now transform this energy into hydrogen, which can be affordably exported to the rest of the world. One of the things we have been discussing with Japanese delegations this year is whether Japan can be an off-taker of green hydrogen that Namibia is going to produce. We believe that we are going to be a substantial producer of green hydrogen and we believe that Japan could be one of our off-takers, which would allow us to improve the country's energy security. Those discussions are ongoing, and I believe that once the industry is established, it will strengthen our relations with Japan. Obviously, this is not the first time we are trading with Japan, with which we have a long trading history, especially in marine resources. We have been selling bay fish to Japan for a long time. So this will improve the trading relationship between our countries, but we also need Japan to work with us in many areas besides energy.

We are on a very strong drive to diversify the economy in many areas and have identified five strategic sectors where we believe at Namibia has potential. One Angolan sector you've already mentioned is agriculture. We believe that we can be a significant producer of certain agricultural commodities, including meat and harvestable fruits like grapes and blueberries. Mining is another potential area of cooperation where we are inviting Japanese companies to come and set up shop here to produce equipment for the mining industry, which generally requires a lot of input. But if you look at southern Africa as a region, Africa is a mining continent. If you set up shop here in Namibia, you are not only going to supply the local mining sector with its inputs, like pipes and other equipment, but also the whole region and the whole continent. So, we want to have a conversation with industries and companies in Japan. Japan is also very strong in the area of electronics so we are also inviting these companies because we think this is an area where Namibia could have a competitive advantage, especially in the future. So Japanese firms are welcome to set up shop here for the domestic market, but also for the entire African market by taking advantage of new African free trade area that is opening up across the continent. We are open for business with Japan.

Some leaders argue the pandemic is over; others remind us that such a statement may be premature. In any case, governments are looking at post-Covid macroeconomic challenges; some challenges like inflation are having a massive impact on the world's economy, and the Russian invasion of Ukraine has made this even worse. How is Namibia dealing with the "post-Covid" phase and the present economic challenges? What are the most important initiatives of your ministry in 2022, particularly those related to the current budget? What is the state of the Namibian economy and its fundamentals? 

There are challenges to the local and global economy with respect to Namibia. We started seeing a decline in economic activity from 2016, same as Angola, when commodities prices started to decline. As such, when Covid came in 2020, we were already in a weak position. The economy has started to recover since Covid subsided. We don't even count our cases anymore. But the world has continued to be complex. What is happening in the global economy and international energy prices is great news for Angola. But we must import, the costs of which have gone up significantly in line with fuel prices. General commodity inflation has also increased, which has had positive and negative outcomes for Namibia, in that we are a producer of some minerals that are now fetching higher prices, but we also have to import energy at a higher cost. Of course, there are many reasons why food and energy prices are elevated. The conflict in Ukraine is making the situation worse. Global inflation is a challenge, and consumers have less money to spend, which pushes up interest rates, which makes financing conditions difficult. These are the challenges that we are dealing with, despite the subsidence of the pandemic. In Namibia, the economy is recovering, and we are projecting growth of around three percent for this year. But we need more than that because we need to create employment. So the question is how to manage these challenges. Our fiscal strategy is key because we have to make sure that government finances are in good shape, otherwise it will be difficult to attract investment in the current economic environment, which will make the implementation of other policies very difficult. So our preoccupation as the Ministry of Finance is to ensure that we continue to manage government finances in such a way that ensures that our debt is not going to run away, which has been a concern over the past few years.

 

For nearly 30 years, TICAD has been a multilateral platform to explore innovative, sustainable, and equitable development pathways across Africa, based on the principles of African ownership and international partnership. Did you attend TICAD last August? What would you like to share with the Japanese business community, and more generally, what are your feelings concerning the present partnership between Namibia and Japan?

Our message to our colleagues and partners in Japan is that our relationship did not start today and has been developing for quite some time. In addition to what we have already talked about, we also receive tourists from Japan, which we appreciate. And there are many other areas where we can work together, including energy and electronics, and maybe even automobiles, where Namibia can produce parts for the Japanese car industry. We want to strengthen our friendship with Japan because that friendship has been in existence for a long time and can only improve.